Ebenezer Is Open and Affirming
"We affirm the gifts and cherish the image of God in each person. We welcome into the full life and ministry of the church all persons of every race, culture, age, gender identity, sexual orientation, ability, economic status, and family structure." (from Ebenezer's Identity Statement)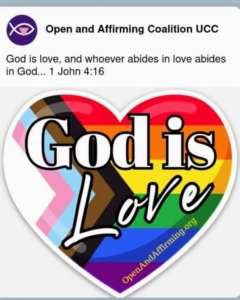 Ebenezer United Church of Christ is an Open and Affirming church. Open and Affirming (ONA) is the United Church of Christ's (UCC) designation for congregations, campus ministries, and other bodies in the UCC which make a public covenant of welcome into their full life and ministry to persons of all sexual orientations, gender identities, and gender expressions.
Ebenezer has long demonstrated "a welcoming openness" helping people feel "at home".  We officially became a UCC-designated Open and Affirming church following a consensus vote taken at our congregation's 2013 annual meeting.  The vote was the culmination of a process of discernment, through informational presentations and discussions. Ebenezer's Identity Statement was modified to more clearly state our inclusiveness.
We've joined with other Open and Affirming UCC churches in Sheboygan County to form a coalition: Ebenezer, First Congregational UCC in Sheboygan, and First Congregational United Church of Christ in Plymouth.  Our goal is to coordinate activities that welcome the LGBTQ community.
Sheboygan County Open & Affirming Churches  http://Sheboygan County Open & Affirming Churches