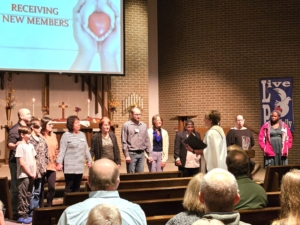 Reception of New Members
For those interested in becoming a member at Ebenezer, New Member Orientation sessions are offered several times a year.  During the two-hour session, participants meet with Ebenezer's pastor and other church leaders to learn about Ebenezer's mission, ministries, and our connections with the United Church of Christ.  We'll discuss the church's vision for the future and explore where you can best share your talents and experience.  Orientation sessions also offer the opportunity to get to know each other as we share our journeys of faith.
Reception of Members occurs during a church service. New members will be asked to step forward and, by answering "I do" to several questions, affirm their baptism and promise to be Christ's disciple and a faithful member of the church. The pastor will announce that "today we rejoice in your pilgrimage of faith which has brought you to this time and place. We give thanks for every community of faith that has been your spiritual home, and we celebrate your presence in this household of faith." The congregation will in turn welcome you and promise friendship and prayers, sharing in the hopes and labors of the church.